A deliciously healthy way to enjoy your favorite foods
October 20, 2011 In
Press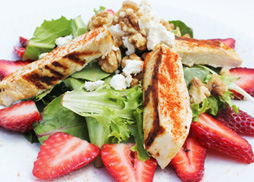 Almost two of every three Americans are either overweight or obese. Many people know they need to eat healthier, but finding the time to prepare those meals is difficult.
People want to eat healthier," says Susan Klein, owner/chef of Fit Foodz Café. "But, everybody is so busy with work and the kids."
One of the first casualties of a busy lifestyle is a healthy diet. It gets sacrificed for the sake of convenience. And, all too often, convenient means high-calorie, high-fat food.
Klein can relate to people's struggle. After a fitness regimen and a eating plan that helped her lose 50 pounds, she was looking for a way to enjoy the foods she craved without gaining back the weight she'd lost.
So, she opened Fit Foodz Café, at 9704 Clint Moore Road, A108, in Boca Raton, an innovative eatery that gives people the foods they love, but in healthy choices.
Have a passion for pasta? Try the Spaghetti Squash with Turkey Bolognese.
Enjoy chicken? Order the Tuscan Chicken, made with fresh tomato, capers, red onion, balsamic and extra virgin olive oil.
In the mood for a "burger"? Dig into a BBQ Bacon Burger, made with turkey, turkey bacon, reduced-calorie barbecue sauce, and low-salt/low-fat swiss cheese. It's available with no bun or on a whole grain bun.
Got a sweet tooth? Try the Black Bean Brownie.
Need something to "grab and go"? Choose a homemade protein bar.
The Spaghetti Squash with Turkey Bolognese, and the Black Bean Brownie, incidentally, are two of the most popular items on a diverse menu that includes protein, grains, greens, smoothies, juices,snacks, sides and baked goods. To call Fit Foodz Café a health-food restaurant is a misnomer. It's simply a restaurant that offers many of the foods that people love, prepared in a healthier fashion.
Everything is made fresh daily with the highest-quality ingredients, Klein notes, and is either baked or grilled; nothing is fried. A Boca Raton nutritionist consultant approves all the food.
I wanted a restaurant-type business that offered fresh, healthy, delicious food," Klein explains. "It's about offering healthy alternatives. People get to eat the things they love, but without all the fat and calories. We don't use any butter or fattening oils."
Since the business opened in the Reserve Shopping Center at the corner of Clint Moore Road and State Road 7 about two months ago, there has been a steady stream of customers.
The feedback has been great," observes the chef/owner. "More than ever, there is a demand [for this type of eatery]. People want to eat healthier, but everyone is so busy."
Fit Foodz Café solves that problem. As Klein says, "we do the cooking; you do the eating."
The café serves breakfast, lunch and dinner. People can dine in, take out or "grab and go."
Fit Foodz Café is open from 9 a.m. to 8 p.m. Monday through Friday, and from 10 a.m. to 7 p.m. on Saturday and Sunday.
Meals are individually portioned and calorie controlled. So, you get the delicious taste, but without all the unhealthy extras.
Each meal includes an entrée, and sweet potato rounds or a vegetable.
Customers can choose individually packaged meals, or family packages complete meals for two or more people. Catering is available as well.
One of the most popular features at Fit Foodz Café is the "10 meals for $75." As Klein explains, each complete meal comes in its own air-tight container. The meals can be placed in the refrigerator or freezer, and then prepared in a microwave.
You can pick and choose your menu for the entire week," she notes. "I tell people to keep [enough meals for] two or three days in the refrigerator, and put the rest in the freezer."
The "10 meals for $75" has its own, separate menu, which changes every week. Klein posts the next week's menu on her Facebook page at 3 p.m. on Friday. Customers can place their orders, then pick them up on Sunday and Monday, from 4 p.m. until closing.This menu, she notes, is great for people who want a healthy and delicious alternative to the workplace lunch.
It's all about convenience these days," Klein observes. "It's for people who don't have time to create meals, but want healthy food choices."
She notes that some parents order the meals for their children's school lunches. As people fight the battle of the bulge,
they don't have to give up the foods they love, Klein says; they just need to have them prepared in a healthier manner.
Fit Foodz Café offers a perfectly delicious solution.